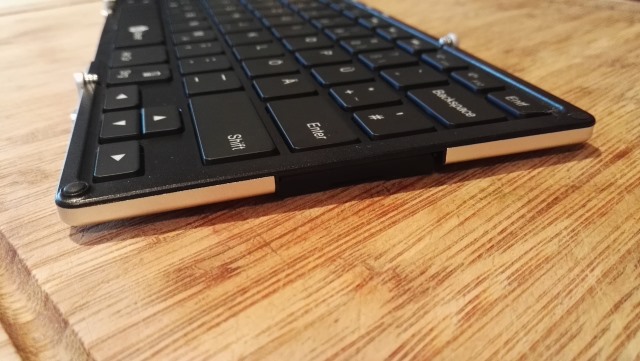 A few months back, I took a look at the iClever Portable Foldable Bluetooth Keyboard and I was impressed. Now iClever is back with an updated version of the keyboard, the iClever Ultra Slim 3 Color Backlight Bluetooth Keyboard.
There are a number of enhancements to the original design, the most noticeable of which is that the keys have now grown to full size. As you'll have guessed from the name, the keyboard is now also backlit, and there are also little kick-out legs to help improve stability.
In terms of build quality, this updated model is just as solid as its predecessor. The same aluminium casing is present, and the hinges that facilitate folding are wonderfully robust and — just as before — the keyboard can be used with iOS, Android and Windows (OS X doesn't get a specific mention in the manual, but it does work — Windows Phone, on the other hand, is singled out as not being supported).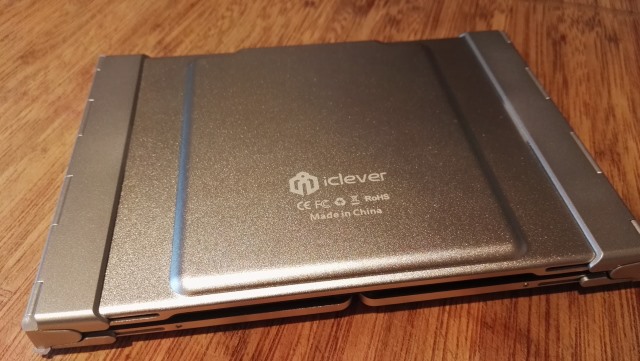 As this is essentially an upgraded version of the previous model, you know pretty much what to expect. The typing experience is simply wonderful, and the full sized layout (291 x 117 x 8.25mm) means that it's actually slightly larger than the keyboards built into many laptops. Folded up, the dimensions reduce to 166 x 120 x 14.8mm, as weighing as just 280 grams, it's hardly a major addition to your bag or pocket.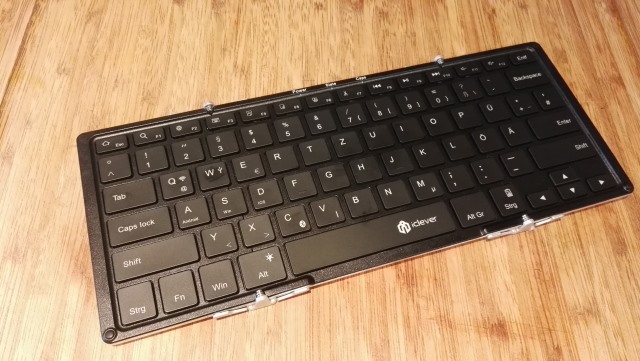 It's not just the size that has changed for the new keyboard model, there's now a battery indicator — something I noted was missing from the previous version. The extra size of the keyboard could have impacted upon the stability of the device, but this is something that iClever has taken care by including tiny kick-down legs on each side. As well as preventing the keyboard from rocking because of the fulcrum created by the hinge covers, the legs also feature rubberized feet to prevent slipping.
Backlighting is a very nice touch for anyone looking to use the keyboard at night or in low light conditions, and iClever gives you the choice of what color you would like to use — a quick key combo lets you cycle between red, blue and green.
The keyboard can be used wirelessly over Bluetooth, or plugged in via USB. The 750mAh battery offers up to 300 hours of continuous operation, but this is only the case if you forego the pleasures of backlighting. With the keys backlit, longevity plummets to a mere 5 hours — perhaps a sign that this is a feature that should only be enabled when it's really needed if you are going to be typing wirelessly rather than tethered with a USB cable.
A full battery charge will take around 4 hours, and iClever says you can expect to enjoy 90 days of standby time, and expect a lifespan of 3 years. As with the previous model, the keyboard comes complete with a carry pouch that has enough room for the keyboard and its cable.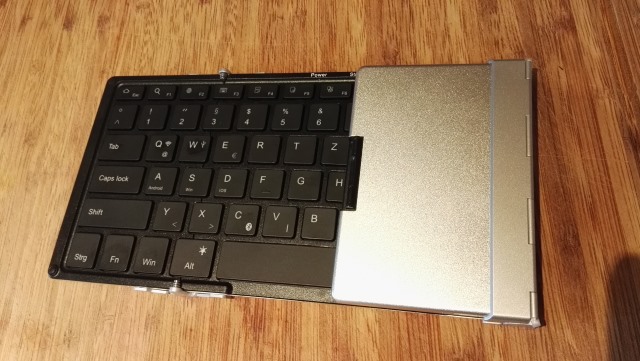 In use, this really does not feel like a foldable keyboard — it's a small form peripheral that offers everything you would expect from its full-sized counterparts; there are no compromises.
If you like the look of the keyboard, you can pick one up on Amazon for $ 54.99 — iClever Ultra Slim 3 Color backlight Bluetooth Keyboard. As before, this is a portable keyboard that comes highly recommended.